Learn HL7 in just one month!
The 'Zero to Hero' series of trainings
At your place - at your convenience - Online
Now is the opportunity to grab the great benefits
of becoming an HL7 Expert
Work towards gaining a US certification in HL7

A high paying, international job could be yours, in as less as
THREE MONTHS
!!
Look at the pay scales below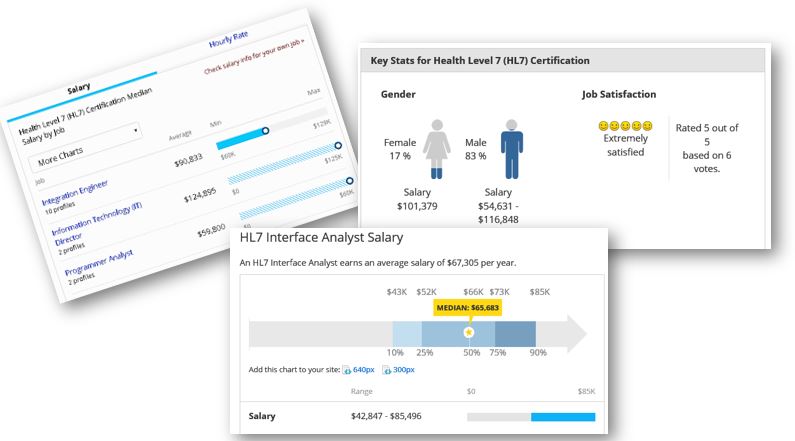 HCitC has, for the first time in India come out with a 'Fast Track', job oriented, online course in HL7 that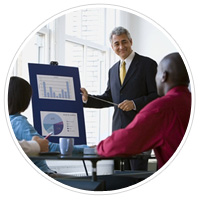 helps you to earn an Internationally valid US Certification in HL7, a Healthcare Interoperability language, in as less as 2 months! This course is designed for individuals with little or no background in healthcare Informatics who are determined to break into, and grow in this highly challenging yet lucrative field.
The three groups of people who will gain most from this course are:
1. Doctors (allopathic, homeopathic, ayurvedic, etc), dental surgeons, nurses
and other paramedical professionals like lab assistants, physiotherapists and dieticians.
2. Graduates and Post graduates with an MBA, BBA, BSc, MSc, BA or MA
3. Qualified IT professional who want to move into Healthcare Informatics
A well known IOM (US) report states that as much as 98,000 patients die in US hospitals due to medical errors! We know today that many of these errors can be avoided, and quality of healthcare improved by the use of Healthcare Informatics. Healthcare informatics is a challenging domain that combines skill-sets from healthcare, informatics, communications and business administration. The goal of Healthcare is to provide quality based patient care which is based on efficient access to, and use of clinical information to make appropriate and efficient clinical decisions. Healthcare Informatics strategizes, implements, optimizes and maintains IT applications, processes and systems that support the above mentioned goal. An important part of this domain is the requirement to seamlessly exchange clinical information between various healthcare organisations. HL7 is a global standard that enables interoperability in healthcare applications.
Healthcare IT careers are well paying. However the path to a well-paying job is long and hard. You can now take the short cut to quickly acquiring skill-sets in the field of HL7. This fast track, online course helps you out-shine other candidates in any interview for high paying HL7 jobs in India, the US, UK, Australia, Canada and other European countries. The demand for these resources is there at every hospital, health insurer, Healthcare IT corporate, and pharmaceutical company. Professionals like doctors, nurses, para-medicals, coders, IT programmers, project managers, analysts marketing experts who obtain proper education and training are more likely to realize the benefits of multiple employment opportunities *.
So what is HL7?
"Founded in 1987, Health Level Seven International (HL7) is a US not-for-profit, ANSI-accredited standards developing organization dedicated to providing a comprehensive framework and related standards for the exchange, integration, sharing, and retrieval of electronic health information that supports clinical practice and the management, delivery and evaluation of health services." (Reference: www.HL7.org)
This goal presupposes availability of adequate resources trained in HL7
Regrettably there is an acute shortage of such trained resources, in India, the US, UK, Australia, Canada, Europe and China, in fact literally globally. This shortage is especially acute in the US where the government has mandated a massive thrust in Healthcare Informatics and has provided adequate funding for the same. Unfortunately, there are limited schools that train on HL7 and most of them are in the US, UK and other western countries.
The student is provided adequate knowledge in the form of presentations, quizzes and hands-on exercises to get him (a) HL7 certification ready, (b) ready to start with simple HL7 projects and (c) confident enough to apply for HL7 jobs. A generous amount of time is spent on hands-on workshops* and real-world concepts that provide the student with the confidence to work on live projects. The total focus of this course is on Job oriented implementation skillsets rather than outdated theoretical knowledge. (It is assumed that the student understands English, has a basic understanding of computers and can use basic apps like a web browser and an email client)
A keen need to learn and succeed

A Bachelor's Degree from a recognized university

Fluency in English
The course consists of four online modules (with multiple presentations) that begin with a very gentle introduction and gradually introduces more complex topics
Each module can be completed by the student as per his convenience
There is however, a minimum and maximum time line to ensure that the student does not lose focus
The student is given full email access to the trainer to clear his doubts and queries.
There is a quiz at the end of each presentation. Clearing each quiz is an important requirement to access the next module.
The student is awarded a certificate of completion on successfully completion of all modules.

We have been training students on HL7 since 2004
We have trained resources at top companies like Deloitte, TCS, Wipro, L&T, BOSCH, etc
Our students (those that took to HL7 Certification) have a 92% success rate
We start with the assumption that the student knows NOTHING about HL7
The training modules are designed in a way that a student can become exam ready in as less as a month
The modules are light-weight and can easily be downloaded even in low-bandwidth sittuations
Though laptop/desktop based learning is advised, mobile based learning is also available as an option
We provide adequate hands-on activities
We provide adequate email support
Our fees are around 1/4th that of organisations in the US/UK
Fees are charged module-wise, so payments are staggered and therefore easier for the student to pay
Call us for details. The course fee can be paid in different formats including electronic.
Self-paced, Online
Each student is required to complete all internal assessments. Successful candidates will be awarded a Certificate by HCit Consultant.
Post this training students can confidently appear for the HL7 International Certification online examination. Successful candidates will be Certified by Health Level 7 International, USA. This certificate is recognized Internationally and certifies the student's capability in HL7. Armed with this certificate an HL7 expert can confidently apply for HL7 Domain Expert/Analyst positions globally.
To join this course - call us NOW at +91 - 9970921266 or +91-89564-45045
for further information please email HCIT Consultant or click here
*Please Note: We improve your skillsets by training you in HL7. How well you learn depends finally, on you. We do not offer jobs. Nor do we assure a job since getting a job depends on the multiple factors that may include amongst others - the country, local demand, the student's background skills, the student's personality, visa rules, local laws, etc